Events: Conferences, Meetings and Activities
(last update: 09.09.2020)
Please send information about meetings to the web publisher (Madeleine Buehler): Send e-mail

For information about past conferences, meetings and activities: Visit the Archive.
Second International Congress of Biological Control (ICBC2)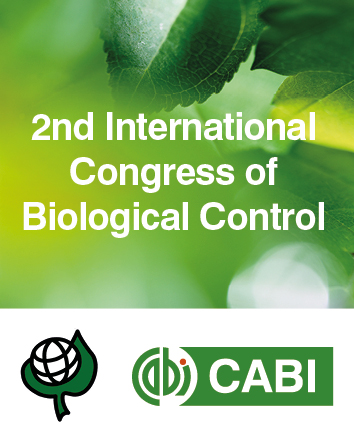 26-30 April 2021, Davos, Switzerland.
This congress builds upon the first International Congress on Biological Control (held in Beijing in 2018), and the First International Conference of Biological Control (held in Bengaluru, India in 2018). Following the lead of these two meetings, the combined ICBC2 will provide a platform for multi- and interdisciplinary biological control research and application. This congress is unique in serving as a meeting point for scientists and practitioners that are working on a wide breadth of biological control targets including insect pests, plant and animal diseases, weeds and invasive vertebrates.
Biological control science has experienced transformational advances in various critical areas over the past decades including risk assessment, commercial mass-rearing, and the elucidation of complex interactions. The discipline is therefore more poised than ever to contribute substantially to solving the world's grand environmental and health challenges. A key to harnessing these advances for maximum benefit is to create strong linkages among different sub-disciplines, targets and approaches of biological control.
Contacts, Organizing Committee:
Deadline for early registration and submission of abstracts: 9 October 2020, payment from 20 October 2020 (you will be contactec by e-mail when the payment platform is open). This provides you the opportunity to register and to submit a paper without the usual required payment and at the same time this indicates to IOBC and CABI as the organizing organizations how many of you are interested to attend at an early stage in the planning process. Session Topics & Paper Submission Session topics have been selected and are published on the website.
Website: https://www.iobc-icbc.com

XXVI ICE Congress 2020, International Congress of Entomology
18-23 July 2021 (postponed, original dates 19-24 July 2020), Helsinki, Finland.
The ICE2020Helsinki congress will be arranged in sections representing major fields of entomological interest. Each section will include a number of symposia.
The ICE2020Helsinki congress intends to attract world-leaders as symposium organizers who will be able to identify cutting-edge topics and to assemble the best-available established researchers, and excellent younger researchers, to present their work.
Website: https://www.ice2020helsinki.fi

Symposium on Insect-Plant Interactions (SIP 2020)
25-29 July 2021 (postponed, original dates 26-30 July 2020), Leiden, The Netherlands.
The 17th Symposium on Insect-Plant relationships will follow the lead of previous SIPs and address the latest developments in research on the relationships between plants, insects and associated microorganisms, from physiological mechanisms to ecological and evolutionary processes.
Website: https://www.universiteitleiden.nl/sip2020

20th Organic World Congress (OWC)
6-10 September 2021 (postponed, original dates 21-27 Sept. 2020), Rennes, France.
Every three years, the organic sector assembles to host the Organic World Congress (OWC), the world's largest organic gathering. Drawing from the motto, 'From its Roots, Organic Inspires Life', OWC 2020 will aim to provide organic and likeminded stakeholders working toward sustainable agriculture, value chains, and consumption with an opportunity to exchange their knowledge, innovations, and experiences. The congress offers momentum and inspiration to all who take part and is seen as a leading event for the global organic sector.
Website: https://owc.ifoam.bio

22nd Australasian Weeds Conference (22AWC)
10-13 October 2021, Adelaide, Australia.

Weed Management Society of Australia and the Council of Australasia Weed Societies (CAWS) will be hosting this conference at the iconic Adelaide Oval in 2020. Situated right in the heart of the city, framed by the River Torrens and surrounding precinct, it will be an impressive and picturesque setting. The program for 22 AWC will be industry led, from cutting edge weed science to chemical innovations and case studies. The society is currently inviting contributions through a call for abstracts for either a talk or poster at the conference.
Website: http://wmssa.org.au/22awc

Further IOBC Event Websites
IOBC-Global:
https://www.iobc-global.org/events.html
West Palaearctic Regional Section, IOBC-WPRS:
https://www.iobc-wprs.org/events/index.html
Neotropical Regional Section (NTRS)
http://www.iobcntrs.org/Events.aspx
Nearctic Regional Section, IOBC-NRS:
https://www.iobcnrs.org