Events: Conferences, Meetings and Activities
(last update: 01.09.2017)
Please send information about meetings to the web publisher (Madeleine Buehler): Send e-mail

For information about past conferences, meetings and activities: Visit the Archive.
Hands-On Training Course
MAXIMIZING OPPORTUNITIES FOR
BIOLOGICAL CONTROL IN ASIA'S CHANGING AGRO-LANDSCAPES
2-9 September 2017, Beijing, China & Hanoi, Vietnam (concurrent)
The International Organisation for Biological Control - Asia and Pacific Regional Section (IOBC-APRS) and International Center for Tropical Agriculture (CIAT) bring to you
MAXIMIZING OPPORTUNITIES FOR
BIOLOGICAL CONTROL IN ASIA'S CHANGING AGRO-LANDSCAPES
This one-week field course will be organized around a number of topics that are of immediate relevance to Asia's agriculture, such as invasive species, ecological intensification, biodiversity loss in agricultural settings, and landscape simplification. The short course will provide a primer to students and young professionals in how biodiversity aspects biological control of pests - within the particular context of Asia's intensified agriculture. The course will use an approach that will pair lecture-style introductions to key topics by world experts with hands-on activities in order to reinforce key concepts. Cross-cutting subject areas that will be covered in this course include: Biodiversity in tropical systems; diversity from landscape to farm-level scales; the importance of diversity & biological control on smallholder farms; and the importance of resource diversity to biological control.
The short course will not only celebrate Asia's historical contributions to the field of arthropod biological control, but equally highlight opportunities and threats for sustained biological control in present-day farming systems. The course will introduce novel concepts, tools and methodological approaches, and plant the seed for invigorated applied research on arthropod biological control in Asia's highly unique yet rapidly changing agro-landscapes.
Flyer, Call for Application (pdf)

5th International Symposium on Biological Control of Arthropods
11-15 September 2017, Langkawi, Malaysia.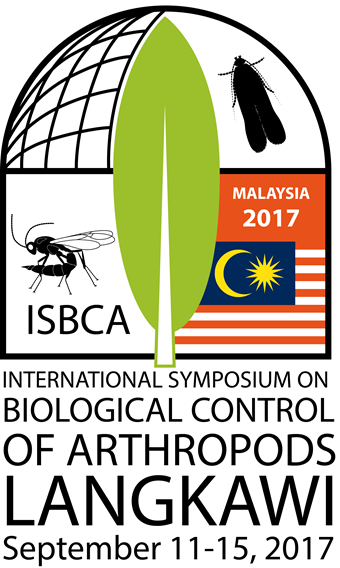 This conference continues the series of international symposia on the biological control of arthropods held every four years. Dr Roy Van Driesche was the founder of the series and held the first meeting in Hawaii in January 2002. The second meeting took place in Davos, Switzerland, in September 2005, the third in Christchurch, New Zealand, in February 2009. The latest one was held in Pucón, Chile, in March 2013. The upcoming 5th symposium will follow the proven format and framework of the previous four symposia, as they have all been very successful and highly appreciated by the participants.
Website: www.isbca-2017.org

2017 AES Conference, Australian Entomological Society
48th AGM and Scientific Conference, "Biosecurity – A Partnership Approach"
17-20 September 2017, Crowne Plaza in Terrigal on the Central Coast of NSW (an hour north of Sydney), Australia.
This year the conference theme will be the science behind biosecurity and the protection of the economy, environment and community from negative impacts associated with insect pests. The exciting science that underpins successful biosecurity will be on show where topics will include, amongst other things, the principles of preparedness, prevention, management, and biology of our invading (or already "invaded") pests.
The 2017 conference logo is the glassy-winged sharpshooter, Homalodisca vitripennis (Germar) (Hemiptera: Cicadellidae) which has marched its way across the Pacific from its natural range in the southeast USA and northeast Mexico. It has travelled via California, French Polynesia, Hawaii, and Easter Island and is a fascinating insect that is an important vector and has some fascinating success biological control stories in some of its invaded ranges along the way.
Website: www.aesconferences.com.au

First International Congress of Biological Control (ICBC-1)
14-16 May 2018, Beijing, China.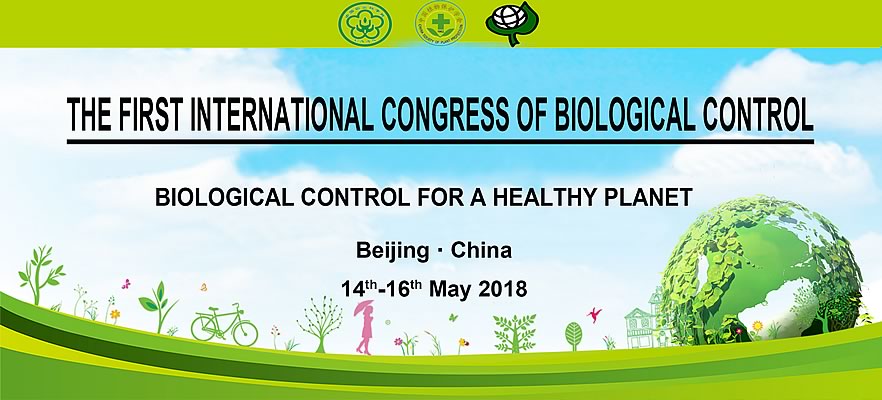 Interdisciplinary Biological Control
Congress Topics:
Integration of the various classes of biological control
Biological control of plant diseases, insect pests and weeds
Biological control as means of preserving biodiversity
Risk assessment and biosafety for biological control
Industrial policy and market development of biological control
Socio-economic impacts and capacity building for biological control
Current status and uptake of biological control in the Belt and Road conttries
More information: Poster (jpg)
Website: www.canevent.com/customPage/customPagePreview?pageId=43608&eventId=10003226

Events of other IOBC Regions:
IOBC-Global and West Palaearctic Regional Section, IOBC-WPRS:
http://www.iobc-wprs.org/events/index.html
Nearctic Regional Section, IOBC-NRS:
http://www.iobcnrs.com/index.php/events-calendar